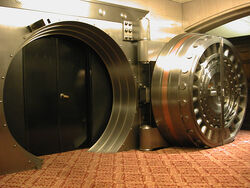 The First National Bank Building is the headquarters and main offices of the First National Bank of Lovia. Located in 2 Maple Str, Bayside, Noble City, it is one of the tallest buildings in Lovia and is a historic building, one of the oldest in Bayside.
Construction
Edit
It was built between 1920 and 1923, and was oficially opened on 21 June, 1923. It was designed by Henri Charles Anosier of Adams and Fletcher Architecture Firm, built by Coningham Construction, and financed by both the Coningham and Ramsley Family. The building is 16 floors high (66 m tall). It is currently managed by Coningham Properties.
The building
Edit
The building is quite old, but many renovations have been done to keep it safe. The bank's vault has been replaced every 20-30 years, to ensure it remains safe. The current vault is modern and state-of-the-art, ensuring maximum safety for the money inside. It employs lots of digital security and scanning systems. Nowadays, much of the building consists of offices and other bank rooms.
See also
Edit
This article is a stub: a short article with a useful amount of information, but that should definitely be expanded.
You can help Wikination by expanding it.
Ad blocker interference detected!
Wikia is a free-to-use site that makes money from advertising. We have a modified experience for viewers using ad blockers

Wikia is not accessible if you've made further modifications. Remove the custom ad blocker rule(s) and the page will load as expected.