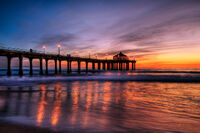 Ferguson Beach (not to be confused with Ferguson Beach Village) is a Lovian beach strip along the northern side of Truth Island, Clymene. It is best known as the beach adjacent to Adoha and Ferg Beach. Ferguson Beach attracts swarms of tourists during the summer months. The beach is named after former Clymene Governor Robin Ferguson.
See also
Edit
Ad blocker interference detected!
Wikia is a free-to-use site that makes money from advertising. We have a modified experience for viewers using ad blockers

Wikia is not accessible if you've made further modifications. Remove the custom ad blocker rule(s) and the page will load as expected.