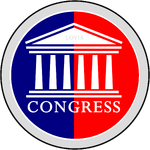 The Federal Elections of 2008 were Lovian federal elections that were held in January 2008. It was the first federal elections since the adoption of the Constitution of 2007 and they were largely organized by Dimitri. Seven Members of the Congress were elected and Yuri Medvedev became Prime Minister. He and the King formed the Medvedev I Government from the elected candidates. The team of Congressmen was enlargened in May in the 2008 Mid-term Elections.
Candidates
Edit
These Lovian citizens ran for Member of the Congress. Note that the king didn't have to run for MOTC, as the Constitution forsaw an automatical membership.
Voting results
Edit
References and notes
Edit
See also
Edit
Ad blocker interference detected!
Wikia is a free-to-use site that makes money from advertising. We have a modified experience for viewers using ad blockers

Wikia is not accessible if you've made further modifications. Remove the custom ad blocker rule(s) and the page will load as expected.