United Farmers Union of Lovia

"Which side are you on boys?"

Name
United Farmers Union of Lovia
Type
Labor Union
Industry
Agriculture
Origin
Farmers of Stephen Headland
Founded
June 5th, 1956
Service area
Rural Lovia
The United Farmers Union of Lovia or sometimes know as UFUL is the labor union which defends farm owners, farm hands from poor working conditions and low wages and unfair selling tactics. It's member's are typically economically close to socialism, favoring state subsidies, but are more likely to be socially conservative. The union was founded by the Bennett family in 1956 was mostly due to the terrible famines that effected farm owners and laborers of the Stephen Headland but eventually expanded to the entire nation of Lovia in the late 1960's.
The Farmers Union is well involved in community actvities, such as promoting children to become farmers. The support of the 4-H Lovia in teaching children about nature, agriculture and animals.
Harvest Homecoming
Edit
President of the UFUL, Charles Bennett began 'Lovian Harvest Homecoming', which promotes the harvest of crops during yearly determined days by the Department of Industry, Agriculture and Trade for children of farmers that left the rural country side to cities to return back to the countryside and aid in helping the parents harvest the crop before winter.
Farmers Aid
Edit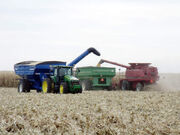 The Farmers Union organizes in several areas in which farming communities are most prominent, such as Western Sylvania and Southern Kings, if farmers are unable to harvest crops in the determined time, the Farmers Clubs in those areas will go out and aid the farmer in his harvest and work. The system is developed largely on trust, where farmers who are given aid must in return help other farmers whom call for aid. If a farmer whom failed at his duties will have a dishonorable discharge.
Farmers Insurance
Edit
| | | |
| --- | --- | --- |
| | This section is under construction. | |