The Farmer's Market or the 1-4U, as insiders tend to call this very special farmer's market shop in Mandarin Village, Noble City, opened its doors on July 8, 2008 and offers the freshest fruit and vegetables from Lovia and overseas.
1-4U is located just steps away from the Patisserie and the famous Pierlot Pizza. Soon, a second shop was opened at Kinley, a town on American Island and the capital of Seven, a popular tourist destination.
The Farmer's motto:
| | | |
| --- | --- | --- |
| " | An apple a day, keeps the Doctor away! | " |
Upon entering the shop, the mouthwatering mingling scents of different fruits, vegetables herbs and spices (displayed in a way that it is hard to resist) whet the appetite.
Why the name 1-4U you will ask? The answer is very simple: before leaving the shop, every customer is offered an apple labelled 1-4U (One for You). Isn't that sweet ?
By doing this, the tenant of the Farmer's Market hopes to bring the message that apples are a very healthy alternative for when you ave a p'tit creu, as Monsieur Aristide tends to express himself when he is a little bit hungry.
Before we forget: Monsieur Aristide is French and though he has been living in Lovia for quite a while, he never lost his French accent and customers just adore listening to him when he explains all he knows about the different kinds of good-stuff he has to offer.
A small selection of the house specials
Edit
Vegetables
Edit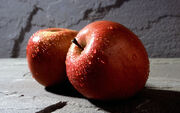 Herbs & Spices
Edit
For a detailed list of all herbs and spices, please visit our website: www.1-4U.lov