FK Swat Lews
Full name
Football Klub Hurbanovni Swat Lews
Date
June 18, 2008-present
Nicknames
FC Hurbanova
Club colors
red, yellow
Sports
soccer
Chairman
Jamal Hustróva
Headquarters
Hurbadome, Hurbanova, Oceana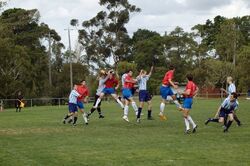 FK Swat Lews or Football Klub Hurbanovni Swat Lews (English: Football Club Hurbanovan Holy Lions) is a football club in the town of Hurbanova. The club plays in the Hurbadome. Many famous players of Lovia originally played for this club. FC Swat Lews is a LSCA member and participates in the LSCA Major Soccer League.
FK Swat Lews exists since 2008 when it was founded as FC Hurbanova by the Oceana businessman Jamal Hustróva. It played only one match in the LSCA Major Soccer League of 2008. FC Hurbanova lost the match against Bay Hawks after penalty shootouts.
In 2010, Alexandru Latin signed a deal with Jamal Hústrova. Latin took over the club partially and gave it the Oceana name Swat Lews. He hopes to attract local youth to the club, not only from Hurbanova but also from other places like East Hills, the home of Lovia's oldest football club Sheckin Lads.
In April 2010, as a reaction to the inactivity of the national sports competitions, Alexandru Latin declared that he wished to play the Oceana Derby between Swat Lews and Sheckin Lads for several times this year, with the hope for an Oceana competition in the near future.
| Number | First name | Last name | Position |
| --- | --- | --- | --- |
| 1 | Barry | Berehovce | Keeper |
| 2 | Hen | Shadenki | Front |
| 3 | John | Hustróva | Front |
| 4 | Mechelert | Ilava | Front |
| 5 | Marc | Hladovka | Center |
| 6 | Harry | Žnalic | Center |
| 7 | Carl | Eastfield | Back |
| 8 | Joe | Žalinic | Back |
| 9 | Joseph | Smith-Shadenki | Back |
| 10 | George | McDeame | Center |
| 11 | Henk | Langbroek | Center |
| 12 | William | Sošlen | Back |
| 13 | Michál | Robevý | Center |
| 14 | Ton | Likewise | Front |
| 15 | Mick | Postwritter | Keeper |
| 16 | John | Kirchmann | Keeper |
| 17 | Ron | Šladiň | Center |
| 18 | Ben | Dumar | Back |
| 19 | Keith | Hladovka | Front |
| 20 | Richard | Tiranim | Front |
| 21 | Bob | Smoleniče | Front |
| 22 | Thomas | Hladovka | Center |
See also
Edit