Eugène Vezry et Cie. is a Lovian coach builder and design house.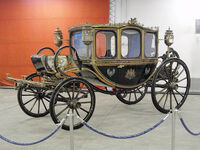 Eugène Vezry et Cie. was founded by Eugène Vezry in 1886. He made coaches and carriages, even some for the Royal family. In 1901, his son, Francois took over upon his father's death. In 1911, he built a race car, which was Lovia's fastest car (top speed:from 101 MPH) until the Atlantis 220 of 1952. In the 1910s, he began to build coach-built bodies for Towne Motors. In the early 80's Vezry rebodied several Atlantis 360's with more traditional styling.
In-house produced cars
Edit
1911 Vezry Racecar
1940-1946 Vezry Coupe
1959-61 Vezry Coupe
Coachbuilt/Designed cars
Edit
Ad blocker interference detected!
Wikia is a free-to-use site that makes money from advertising. We have a modified experience for viewers using ad blockers

Wikia is not accessible if you've made further modifications. Remove the custom ad blocker rule(s) and the page will load as expected.