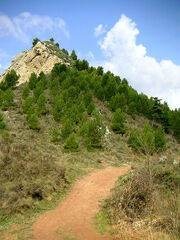 The Emerald Highlands National Park, also known as Emerald NP or abbreviated EHNP, is a Lovian National Park protected and operated by the National Park Service. It is Lovia's first National Park covering an area in two states: Oceana and Sylvania. Located centrally on Peace Island, the EHNP covers almost the entire region of the Emerald Highlands. It was designated National Park by NPS Chairwoman Martha Van Ghent (Walden) on November 8, 2010. Prior to the designation, the Emerald Highlands were often thought of as a future park, but problems arose concerning existing constructions in the area.
The park's headquarters are the Donia Castle, now transformed into a visitor center, ranger station and museum. Both Clave Rock in Sylvania and East Hills in Oceana are on the routes leading to the park entrances.
Nature and wildlife
Edit
See also: Emerald Highlands for more information about the region.
| | | |
| --- | --- | --- |
| | This section is under construction. | |
| | | |
| --- | --- | --- |
| | This section is under construction. | |
Castle Donia controversy
Edit
Castle Donia is a neo-romantic castle in the Sylvanian Emerald Highlands owned and inhabited by the Donia Clan. Multiple times, eminent Lovians proposed the destruction of the castle to allow for the creation of a National Park in the Emeralds. Another suggestion was downsizing the castle. Some, including NPS Chairwoman Van Ghent at one stage, proposed to make it the park headquarters. Proponents of demolishing the castle included Oos Wes Ilava and Pierlot McCrooke.
November 8th, 2010 - the date the park was created - Ygo August Donia, owner of the castle, allowed to downsize it. He also agreed on selling it to the Lovian government, to make it the park's headquarters. Half of the building will house a museum on the Donia Castle and its former inhabitants.
Members of the Brigade patrol the area since early 2011, a controversial decision made by Y.M. Donia. They claim to "protect and serve the Donia Clan and wildlife".
By September 2013, the Castle is once again fully inhabited by members of the Donia family, the rangers have been thrown out and the castle's been restored to it's former size and glory.
Headquarters
Edit
Visitor Center and Ranger Station
Edit
| | | |
| --- | --- | --- |
| | This section is under construction. | |
Castle Donia Museum
Edit
Main article: Castle Donia Museum.
Activities
Edit
| | | |
| --- | --- | --- |
| | This section is under construction. | |
The Highlands are a well-known hiking destination in Lovia.
See also
Edit
Ad blocker interference detected!
Wikia is a free-to-use site that makes money from advertising. We have a modified experience for viewers using ad blockers

Wikia is not accessible if you've made further modifications. Remove the custom ad blocker rule(s) and the page will load as expected.