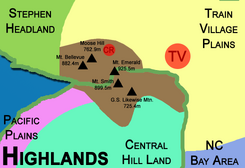 The Emerald Highlands or Highlands are a geographical interstate region on Peace Island in both Sylvania and Oceana. It is Peace Island's most mountainous region, including its highest point, the Mount Emerald. There are 367 (excluding the Clave Rock population) people residing within the Sylvanian part of the Emerald Highlands.
The area is situated in the western center of the island and is surrounded by the Stephen Headland, the Train Village Plains, the Central Hill Land and the Pacific Plains. The region is not easy accessible, due to the rocky underground. Lovia's longest river, the Beaver River, has its spring on the flanks of these mountains.
Train Village is often regarded as the gateway to the Highlands. The TV hamlet Clave Rock is located within the Sylvanian Highlands. Donia Castle, home to the Donia Clan, is also located in the Emerald Highlands. The beautiful nature, the neo-romantic Castle Donia and the clean inviroment with a rich wildlife and many opportunities for outdoor-activities attract much tourism every year. Lately, members of the Brigade are known for patrolling the area looking for poachers and illegal hunting.
Cardinale spring water is produced in this region.
Mountains
Edit
A short list of mountains in the Emerald Highlands, listed by height:
Bodies of Water
Edit
A list of lakes, sorted by surface area.
Pend Orielle Lake (203 acres, .83 square kilometers)
See also
Edit
Ad blocker interference detected!
Wikia is a free-to-use site that makes money from advertising. We have a modified experience for viewers using ad blockers

Wikia is not accessible if you've made further modifications. Remove the custom ad blocker rule(s) and the page will load as expected.