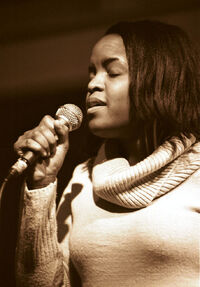 Em Rothschild, born January 3rd 1989 as Emily Rothschild, is a Lovian jazz musician and vocalist. As of October 2009, she has been playing with Fox Force Four. At the 2010 Jazz Portland festival, she was praised by The Noble City Times for her "fantastic vocals [that] remind of Tracy Chapman."
Rothschild plays the bass, double bass and cello.
Early life and family
Edit
Emily was born to Jack Rothschild, an office clerk distantly related to the German Jewish bankers family, and his African-American wife Polly Theresa Moran. Jack had moved from London to Lovia in 1987, where he met Polly Moran, who was visiting the archipelago with her then-husband, Andre Brown. Within a year, Polly divorced her husband and married Jack Rothschild. January 3rd, 1989, she gave birth to their first child, Em. The couple named their child after the American poet Emily Dickinson.
Em has a younger sister, the rising tennis player Lo Rothschild (Charlotte), who was born in 1991 and named after the English writer Charlotte Brontë.
See also
Edit
Ad blocker interference detected!
Wikia is a free-to-use site that makes money from advertising. We have a modified experience for viewers using ad blockers

Wikia is not accessible if you've made further modifications. Remove the custom ad blocker rule(s) and the page will load as expected.