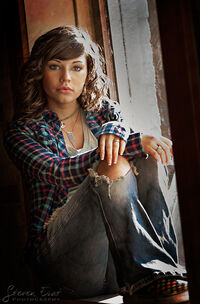 Ellie Gauld (born 1990) is a Lovian saxophonist and jazz musician with the all-female ensemble Fox Force Four.
Family and early life
Edit
Ellie Gauld was born October 2nd, 1990, in a Lovian working-class family with already three children: Jonathan (b.1986), Martha (1988-1991), and Steven (b.1989). The father Humbert Gauld is a construction worker who splits his time between the quiet Lovian building sites and the Californian coastal cities. His wife, Patricia, has been a housewife since the birth of Martha in 1988. The couple's second child died of leucemia at the age of three.
After Ellie's birth, Patricia Gauld would give birth to two more children: Holly (b.1992) and Gilbert (b.1994).
Ellie's paternal great-grandfather was Woody Gauld, the American-born jazz composer and bandleader of the Noble City Blues Band.
She is dating National Soccer Team player Thomas Relove.
Education
Edit
Ellie attended school in Noble City. She enrolled Blackburn University in 2008, where she studies history.
Music career
Edit
Together with Em Rothschild, Martha Van Ghent and Nicky van Huizen, Ellie founded Fox Force Four in October 2009, an all-female jazz improvisation ensemble. The band broke through nationally at the 2010 Jazz Portland event.
Gauld plays the saxophone, clarinet and bass clarinet. Although she used to, she no longer sings on some of the Fox Force Four tracks.
See also
Edit
Ad blocker interference detected!
Wikia is a free-to-use site that makes money from advertising. We have a modified experience for viewers using ad blockers

Wikia is not accessible if you've made further modifications. Remove the custom ad blocker rule(s) and the page will load as expected.