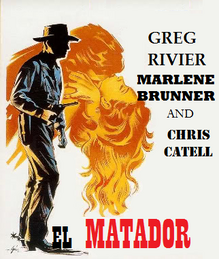 El Matador is a classic 1950s Lovian-American TV western. Produced by Transbaum Films' television department, it is now brodcast on ATV's Retro TV channel. El Matador was also a 1961 film, which was a commercial flop.
The Show
Edit
El Matador was part of Transbaum's foray into television. It put together shows similar to American ones, such as Space Attack. In 1957, the first shows were released, and El Matador would continue for nine seasons, until 1966. El Matador was featured in reruns in 1981 and 1997.
The Actors
Edit
Ad blocker interference detected!
Wikia is a free-to-use site that makes money from advertising. We have a modified experience for viewers using ad blockers

Wikia is not accessible if you've made further modifications. Remove the custom ad blocker rule(s) and the page will load as expected.