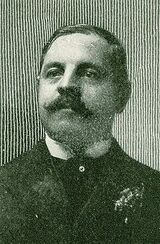 Edward Albert Ramsley (1857-1916) was a British-Lovian businessman.
Biography
Edit
Edward's father was Charles Ramsley, who could trace his ancestors back to Sweden. His mother, Lady Anne Cavendish, was part of the family of the Dukes of Cavendish. Edward was increasingly bored in England so in 1876 he left to travel Europe. He went to Austria-Hungary, heading to Vienna. There he would find enough capital to be able to head to the recently discovered country of Lovia. But, at the village of Třebíč, near Brno, he met an 18-year old girl, Bara who he fell in love with. He and Bara moved to Lovia in 1879, originally settling in Scotland. He began a trans-Atlantic imports-exports company, Federal Imports Ltd. Initially successful, the company lost profits near the end of his life.
Bara give birth to one son, Andrew Frederick Ramsley (1880).
See also
Edit
This article is a stub: a short article with a useful amount of information, but that should definitely be expanded.
You can help Wikination by expanding it.
Ad blocker interference detected!
Wikia is a free-to-use site that makes money from advertising. We have a modified experience for viewers using ad blockers

Wikia is not accessible if you've made further modifications. Remove the custom ad blocker rule(s) and the page will load as expected.