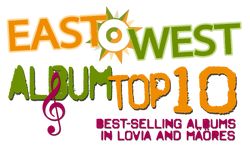 EastWest Album Top 10 is a music chart which tabulates the relative weekly popularity and sales of albums in Lovia and Mäöres. The chart is tabulated by album sales in both countries combined from any source, including store sales and legal download sales. Ever since the begining of EastWest sales have gone up all around Libertas, Lovia, and Mäöres in all genres. EastWest confirmed its wish is to "get both nations to exchange musical talent and joy."
Previous weeks
Edit
This article is a stub: a short article with a useful amount of information, but that should definitely be expanded.
You can help Wikination by expanding it.
Ad blocker interference detected!
Wikia is a free-to-use site that makes money from advertising. We have a modified experience for viewers using ad blockers

Wikia is not accessible if you've made further modifications. Remove the custom ad blocker rule(s) and the page will load as expected.