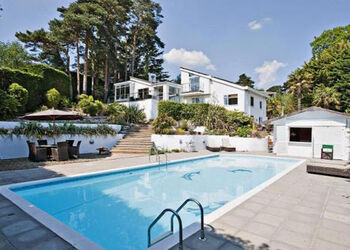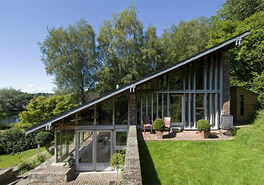 Dos Robles (Spanish for two oaks) is the home of famous bachelor James Torres. The house has it's name because of two large and old oak trees in the enttrance. It was built in 1964 and now is worth various millions of dollars (more than 4 million). It is located in New Town.
The house has many rooms, split in various levels. Inside there is a large living room (split in various levels), a study with a terrace, a large kitchen and a dining room which has a view to the gardens. There are five bedrooms which all have balconies, and 4 bathrooms.
Property
Edit
On the upper terrace there is a nicely decorated garden kept by Torres's partner Caroline Weise. The low terrace has a heated pool and a special outdoor house with a sauna, a sitting room, shower and cloakroom.Torres has on the property vine's, because he likes to make his own wine. There is also a separated guest house, where he had a ilegal casino until 1966.
Ad blocker interference detected!
Wikia is a free-to-use site that makes money from advertising. We have a modified experience for viewers using ad blockers

Wikia is not accessible if you've made further modifications. Remove the custom ad blocker rule(s) and the page will load as expected.