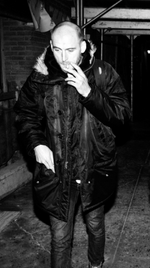 Dopaminblocker (born November 18, 1982) is a Lovian DJ and member of Beautiful Burnout. He was born in Plains, Clymene, and pursued a solo career in the Lovian techno scene before joining Beautiful Burnout. He produces rave-influenced tech-hop beats and is known for his angry, abrasive music.
Beautiful Burnout
Edit
The underground hip-hop collective Beautiful Burnout is signed to Warped Records founded by Dopamineblocker himself and Gill Kristus and Bullet Proof in 2008. They started a Lovian tour in 2010 and the band worked with Tapedeck Destroyer and Dagger for The Epileptic Album, Vol 1 in 2010. They started touring again in 2013 after releasing their first album, Die Stryd Stapel On Ni-e Stryd, It Sgchin Nie Mór
Solo career
Edit
Dopaminblocker has worked together with blastbeat drummer Dagger and Tapedeck Destroyer on his 2013 album Tape Drums, a harsh and abrasive experiment in creating noisy turntablism music. He confirmed in an interview that he would release his first solo album in the summer, but it was postponed until 2015.
His first solo album, Presence of the Enemy, was released in Lovia on February 7, 2015 by Warped Records and his temporary talent agent Hendrik Koopman. Later in the year, Dopaminblocker began a nationwide tour and unveiled several new tracks. He will kick off at Vredefestival on October 18 in Libertas, the start of his European tour in the autumn of 2015.
Some of his tracks were featured in commercials for Shadwell Inc and Mountain Dew.
Discography
Edit
Ad blocker interference detected!
Wikia is a free-to-use site that makes money from advertising. We have a modified experience for viewers using ad blockers

Wikia is not accessible if you've made further modifications. Remove the custom ad blocker rule(s) and the page will load as expected.