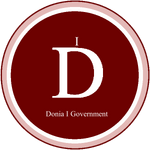 The Donia I Government was Lovia's national executive government from February 1st, 2011, to April 30th, 2011. The government was led by Prime Minister Ygo August Donia, and inaugurated on February 1st, 2011. It is Lovia's first government since the 2007 Constitution that immediately follows another democratically elected government, the Medvedev II Government. Despite speculations that Donia would form a coalition government, he rather formed a government of national unity, offering government offices to members of his CCPL, progressives from Walden and CPL.nm, and to LAP and PCP members. Following the collapse of government after the Galahad v. The Brigade Trial, it was replaced on May 1st, 2011, by the Villanova I Government.
Composition
Edit
Elections
Edit
Main article: Federal Elections, 2011.
See also
Edit
Ad blocker interference detected!
Wikia is a free-to-use site that makes money from advertising. We have a modified experience for viewers using ad blockers

Wikia is not accessible if you've made further modifications. Remove the custom ad blocker rule(s) and the page will load as expected.