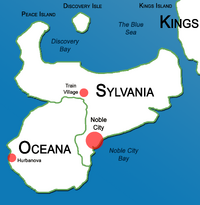 The Discovery Bay is a Lovian bay located in Northern Peace Island. It is a more shallow part of the Blue Sea, a Pacific Ocean sea. The bay is located in between Discovery Isle, the Stephen Headland and the Northern Peace Island landmass. It is known to be an idyllic bay area, notable for its high amounts of fish and birds.
See also
Edit
Ad blocker interference detected!
Wikia is a free-to-use site that makes money from advertising. We have a modified experience for viewers using ad blockers

Wikia is not accessible if you've made further modifications. Remove the custom ad blocker rule(s) and the page will load as expected.