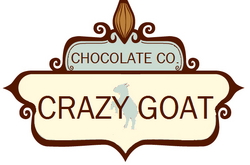 Crazy Goat is a company based in the Emerald Highlands, known for producing organic chocolates, founded in 2004. Crazy goat uses chocolates grown by local farmers. They are a major supplier to Marketfresh stores in Lovia and Brunant. Since 2008, they have been a part of the Local Foods Initiative, a projest aimed at linking various small organic/local food producers in several wikinations.
Crazy Goat Milk
Crazy Goat 60% Dark
Crazy Goat 85% Dark
Crazy Goat Liqueur
In 2015 Crazy Goat will introduce a 90% dark variety.
Ad blocker interference detected!
Wikia is a free-to-use site that makes money from advertising. We have a modified experience for viewers using ad blockers

Wikia is not accessible if you've made further modifications. Remove the custom ad blocker rule(s) and the page will load as expected.