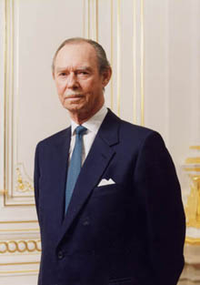 Carl August, Count of Frederiksborg (born 1945) is a Lovian-Danish royal and uncle of Prince Andrew Glücksburg-Ramsley.
Early life
Edit
Prince Carl was born in Lovia in 1945. His parents, the Count and Countess of Frederiksborg, went into exile to Lovia during World War II. After the war, ther decided to stay there. He studied chemistry at Nobel University. He fell in love with a Belgian nurse, but she died in 1969.
Later life
Edit
Carl was involved in humanitarian work in the 1970s, and went to India and Uganda to work in villages. In 1986, he became Count of Frederiksborg after his father died. He is a professor at Blackburn University and works in the Blackburn University Center for Third World Studies. He wrote the book A Chemists Handbook in 1994. He currently lives in Newhaven, but travels to Denmark often. He likes to spend time with his nieces and nephews, as he has no kids.
See also
Edit
Ad blocker interference detected!
Wikia is a free-to-use site that makes money from advertising. We have a modified experience for viewers using ad blockers

Wikia is not accessible if you've made further modifications. Remove the custom ad blocker rule(s) and the page will load as expected.