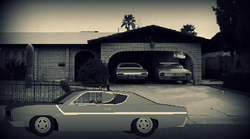 The Corona GTC was a car produced by Corona from 1968 to 1972. This was the only Lovian muscle car produced. The GTC came with a Buick 350 engine producing 300 hp, or could be uprated to 315 horsepower at cost. The original colors for the GTC were Slime Lime, Orange You Glad, Yellow Jacket, True Blue, Red Hot and Black-Jack.
The GTC also had such novel accessories like hidden headlamps, unique wheels and color-matching seats.
GTC Hurst Hornet
Edit
The Hurst Hornet was a special tuned GTC by Hurst Performance made in 1968 and 1969. The engine was modified from the original GTC to produce 337 horsepower. 528 cars were produced in Yellow Jacket with Black-Jack racing stripes, with 200 going to USA and Canada. With prices at $4800, it was fairly affordable and was one of the glamour cars of the period.
Today there are some 300 Hurst Hornets in existence, with good-condition models selling for upwards of L$25,000.
Ad blocker interference detected!
Wikia is a free-to-use site that makes money from advertising. We have a modified experience for viewers using ad blockers

Wikia is not accessible if you've made further modifications. Remove the custom ad blocker rule(s) and the page will load as expected.