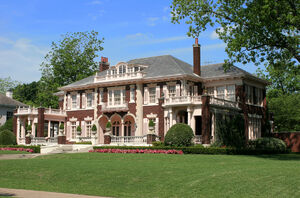 Coningham House was the residence of the prominent Coningham Family of Lovia in Hurket-on-Kings, Portland. While the family originally lived in a large farm in Kings, Sir George Coningham had this house built between 1904 and 1907. The house passed down to his son, and is still in the possession of the family. In 2011, Pacific Brokers and Insurers listed the home for sale at L$1,270,000. In 2012, the house was purchased by Rakham Tarik Al-Asmari, and now serves as the residence of the Al-Asmari family.
Ad blocker interference detected!
Wikia is a free-to-use site that makes money from advertising. We have a modified experience for viewers using ad blockers

Wikia is not accessible if you've made further modifications. Remove the custom ad blocker rule(s) and the page will load as expected.