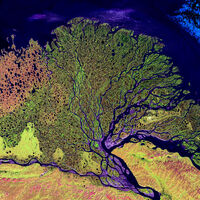 The Clymene Creek is a river on Asian Island, Clymene. It is the longest river in that state and the third longest in Lovia, after the Beaver River and The Abby. The river is an important habitat for many animals.
On the banks of the river, several parts of the Clymene Creek Bike Trail, a State Bike Trail of the Clymene state, run.
The Clymene Creek is famous in whole Lovia for her gorgeous delta. The delta is a great swamp area and a habitat for many plants and animals. It's possible to get touristic tours through the delta. The State of Clymene is thinking for a request to the National Park Service for a recognition of a National Park to the Clymene Creek Delta.
The delta has more than 100 or 200 islands.
There live over 60 species of birds and 140 kinds of fish in the delta.
In fact, the name "creek" is not correct for this river because its too long and too wide to be a creek. In fact, the river was named "creek" at the time the river was first spotted near its spring (where it was a little creek), it has then been given the name Clymene Creek. Nobody realized the "Creek" in fact was a long river.
See also
Edit
Ad blocker interference detected!
Wikia is a free-to-use site that makes money from advertising. We have a modified experience for viewers using ad blockers

Wikia is not accessible if you've made further modifications. Remove the custom ad blocker rule(s) and the page will load as expected.