Club Arancia
Name
Club Arancia
Type
Bar
Product
Food/drinks
Origin
Lovian
Founded
2010
Owner(s)
Giovanni Bari
Headquarters
Adoha and The Mall, NC
Club Arancia is a bar/lounge club in Adoha and the Noble City Mall in The Mall, Noble City.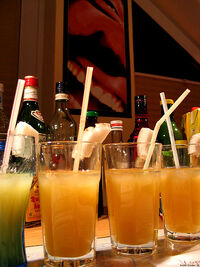 Club Arancia was founded in 2010 in Adoha by Italian Giovanni Bari, in order to satidfy what Bari perceived as a lack of bars in the country. The club aims to cater specifically towards the needs of tourists; Chinese, French, German, Spanish, Italian, Dutch and Russian are all spoken by at least one employee, in order to assist foreigners. There are also a selection of information leaflets about events and things to do in the region, and Mr. Bari himself is willing to advise visitors. The bar has a very modern design, and is mainly frequented by young people apart from the large number of tourists. The club's specialty is orange liquors and cocktails. The first club was so successful that Mr. Bari established another club in Noble City later that year, which is run by his sister Miranda Bari.
Good drinks, but too touristy. Service is a little slow, except when it comes to the bill.

-Cinq Etoiles