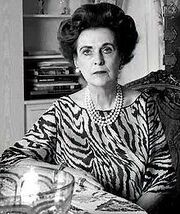 Clara Ramsley, Countess Tilly (born 1934) is a Lovian lawyer. Born in 1934 to Albert Arthur Ramsley, she pursued a career in law. She graduated from Blackburn University in 1955, being one of the first women to do so, as well as the 1st woman law school graduate. In 1959, she was appointed to the State Court. She married Count James Tilly in 1963 and retired from the court. She has 3 children, Francois Tilly, Silvie Tilly and Antonia Tilly.
This article is a stub: a short article with a useful amount of information, but that should definitely be expanded.
You can help Wikination by expanding it.
Ad blocker interference detected!
Wikia is a free-to-use site that makes money from advertising. We have a modified experience for viewers using ad blockers

Wikia is not accessible if you've made further modifications. Remove the custom ad blocker rule(s) and the page will load as expected.