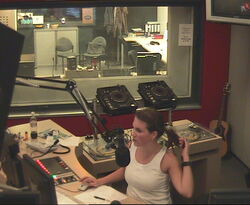 Claire Van Hoeck (Kinley, January 3, 1983) is a Lovian radio host and personality most notable for presenting Rockafellow's AM Classics at weekends.
Personal life
Edit
Claire Van Hoeck's family has lived in Lovia for over a century. The family's paternal ancestors have Belgian roots.
Claire is engaged to Patrick Jones.
See also
Edit
Ad blocker interference detected!
Wikia is a free-to-use site that makes money from advertising. We have a modified experience for viewers using ad blockers

Wikia is not accessible if you've made further modifications. Remove the custom ad blocker rule(s) and the page will load as expected.