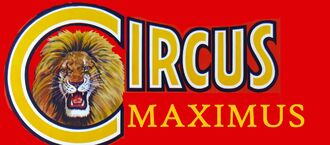 Circus Maximus is a famous Lovian circus. The circus was founded in 1888 by George Istvan an Anglo-Hungarian businessman. The circus was originally a travelling one, having events mainly in Sylvania, Oceana and Kings.
Istvan saw the opportunity to make lots of money from a circus. Lovia at that time didn't have much entertainment around. He thought a circus would really keep Lovians happy, as well as making him a lot of money. He originally wanted a Roman-style amphitheatre or a colosseum, but found it to be too expensive. Istvan founded the circus in 1888, and it gave many shows throughout Lovia. The very first show was in Princess' Park on September 3, 1888 and originally charged 42 cents price. Some famous early acts included Zarina the Black Panther, Edward Mallett, the Human Cannonball, Chief Rongorongo and Jerry and Terry (Siamese twins).
Circus Maximus was sold in 1897 to Sir George Coningham. The new ringmaster became Henry Istvan. He passed along the circus to his son George F. Coningham. Presently, the Coningham Family runs and operates the circus. The circus Ringmaster is Evgeni Sharapov, an Oceana Lovian whose family has been ringmasters since the 1920s.
In the mid-90's, a co-production with Cirque du Soleil toured Lovia.
In 2003, a fire broke out when the circus was performing in Freedom Park, killing 11 people and injuring 34.
Circus Maximus today
Edit
Today Circus Maximus is very popular, and many Lovians enjoy going to the circus. The most popular acts in the circus are Rex the Leopard, The Human Cannonball (Grigor Zarod), the Flying Trapezist (Roger Galt), The Fabulous Mingos (Albert Mingo, Amy Mingo, and Melissa Mingo), and Bettina the Snake Charmer (Bettina Gray). The ticket prices are $30 for an adult and $18 for children and elders. The circus runs from April to October (sometimes holding performances in January), and goes to every Lovian state to perform. Also, when the circus comes a carnival or fair is often held, and many rides are there.
Picture gallery
Edit
See also
Edit
Ad blocker interference detected!
Wikia is a free-to-use site that makes money from advertising. We have a modified experience for viewers using ad blockers

Wikia is not accessible if you've made further modifications. Remove the custom ad blocker rule(s) and the page will load as expected.