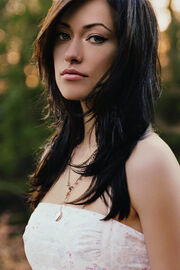 Christina Ramsley (born 1981) is a Lovian model and a member of the Ramsley Family.
Her father is Joseph Ramsley and her mother Andrea Blair, also a model. As Joseph Ramsley's only daughter, she will inherit part of his $260 million fortune. She is married to George Bradly-Lashawn and they have 3 kids, Joseph Bradly-Lashawn (2001), Isabella Bradly-Lashawn (2004) and George Albert Bradly-Lashawn Ramsley II (2008). She has since stopped her acting career. Christina and her husband are set to have a 4th child soon.
Ad blocker interference detected!
Wikia is a free-to-use site that makes money from advertising. We have a modified experience for viewers using ad blockers

Wikia is not accessible if you've made further modifications. Remove the custom ad blocker rule(s) and the page will load as expected.