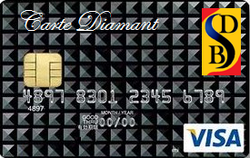 The Carte Diamant is the premier credit card issued by the SD Bank of Brunant and its affiliates, SD Bank Libertas (in Libertas) and the First National Bank . This card is only issued to select clients, mostly international jetsetters (this explains the €50,000 credit limit).
Carte Diamant Rewards
Edit
This card also doubles as a reward and membership card for various luxurious hotels, boutiques and restaurants internationally.
Some of the participating businesses include:
Ad blocker interference detected!
Wikia is a free-to-use site that makes money from advertising. We have a modified experience for viewers using ad blockers

Wikia is not accessible if you've made further modifications. Remove the custom ad blocker rule(s) and the page will load as expected.