Canterbury is a neighborhood of Kinley, situated to the northwest. Originally an agricultural community, the focus of the neighborhood has recently become the International College of Lovia, which has its central campus in Canterbury. A large number of students also live in the area. It's well known for the combination of beautiful seaside landscape and lively culture.
Although it had existed informally for some time, it was given official status by Governor Jon Johnson after Downtown Kinley became overcrowded.
Canterbury adopted a flag in 2011, combining several images and datesimportant to the neighborhood, like the seal, picture of the Aquinas College, Map of American Island with Canterbury, photo of Jon Johnson and the mottoes "Recognized in 2011", "Founded in A.D. 1916" and "Cultura Omnibus Est".
Neighborhood map
Edit
*1* — The Strand
*2* — Rheims Street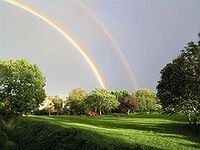 The culture of Canterbury is often seen as a neutral step between the cultures of Old Kinley and Novosevensk. Most of its population is of American origin, while around 25% have Dutch ancestry, a far smaller proportion than in Kinley. The highly progressive Dutch-Belgian culture which exists in Newhaven and Noble City and to some extent Kinley is therefore much less prevalent. For this reason, Novosevenskians have sometimes argued that the governor should reside in Canterbury to avoid a perceived tension from the inhabitants of Old Kinley.
Canterbury's culture is seen as being very tolerant, with over fifteen different religious denominations. It contains Lovia's only synagogue. There are also a number of Russians in the settlement, immigrants from Novosevensk during the Great Famine. They are however fully integrated, except for their surnames, which of course remain Russian. It retains a vibrancy from the large population of students who reside there.
Canterbury is also known for its art, with Seven's most famous composer, Pieter van Duin, being born there.
The settlement was founded by French Algerian Jean de Moivre in 1916 - the original purpose of the settlement was to allow Europeans to avoid being conscripted in the First World War, as Lovia was neutral. It was from this period in Lovia's history that it earned the derogatory nickname Cowards' Village one which is occasionally still heard today.
The population did not really boom however, until the Great Depression, when large numbers of Americans emigrated. The settlement enlarged so rapidly it merged with Kinley becoming a neighborhood of it. Originally an agricultural settlement, as Lovia moved in the later stage of the 20th century towards a service-based economy poverty began to overtake the settlement. The chairman managed to do a deal with the International College in Libertas to open a college in the neighborhood, and ever since then the economy has revolved around the university. Canterbury today boasts of being Lovia's only 'education-based settlement'.
See also
Edit
References
Edit
↑ These figures were registered and measured by the Seven Demographic Centre on March 16th, 2013.