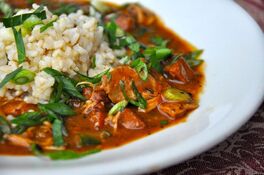 Cambra's Creole Cookhouse is a restaurant in Noble City serving Creole and Caribbean food. It is owned by the Cambra family (4th generation).
Cambra's was founded in 1889 by Jean Cambra and Molly Relais-Cambra, based on the book Cooking Creole (co authored by her uncle). They worked in their kitchen and attended customers in their home. Cambra's is the oldest Lovian restaurant still exsisting.
The food at Cambra's is mostly homely Cajun cooking. The top dishes are Jambalaya and Gumbo. Crawfish, shrimp and trout are also served, which is considered the best seafood in Lovia. Cambra's seafood is caught fresh daily.
This is definitely among the most delicious seafood places in Lovia, if not the best. All the food has an authentic Cajun flavor, staying true to the original cookbook. -Cinq Etoiles
Ad blocker interference detected!
Wikia is a free-to-use site that makes money from advertising. We have a modified experience for viewers using ad blockers

Wikia is not accessible if you've made further modifications. Remove the custom ad blocker rule(s) and the page will load as expected.