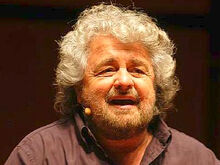 Burt Schwartz (Born January 21st 1947) is a Lovian Marxist politician, historian, philosopher, and economist from Citizen Corner, Noble City who has published such classic works as A People's History of Lovia and The Economy. Schwartz received his doctorate in economics and then taught at Noble University and its successor Blackburn University, specializing in Marxian economics. He entered politics in 2011 and was elected, although unsuccessfully ran in 2012 and 2013. He is known for his use of converse and somewhat casual wear in public.
Schwartz advocates a gradual change from a liberal capitalistic society to a collective socialist society. In his 1987 work, The Economy, he outlines the socialist political economy and how society should not turn to totalitarianism to settle economic matters. His line of thought on his model of "liberally anti-liberal socialism" has influenced other Marxist thinkers in Lovia such as Yuri Medvedev and Miroslav Znalic.
Ad blocker interference detected!
Wikia is a free-to-use site that makes money from advertising. We have a modified experience for viewers using ad blockers

Wikia is not accessible if you've made further modifications. Remove the custom ad blocker rule(s) and the page will load as expected.