Black Ops III: Columbia
Talk

0
2,874pages on
this wiki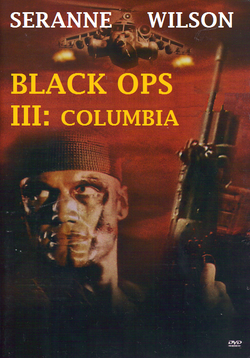 Black Ops III: Columbia is a 1988 action film by Transbaum Films. It is the third in the Black Ops series of films. The word "Columbia" (meant to be Colombia) in the title is an error which was not corrected, so the original posters and movies feature that spelling. It would be corrected in a 1992 VHS re-release. It had a hard R rating, for intense violence.
The film follows Brad Avery (Paul Seranne) and Unit 56, a secret hit squad of the Lovian Secret Service. Unit 66 is re-united after 10 years. Their mission: to enter the Colombian jungles, infiltrate the base of the "Columbian Guerrilla" and kill its members and leader, Marco (James J.K. Wilson), who are intent in overthrowing the government. They embark on a dangerous mission, battling man-eating piranhas, armed natives and "guerrilleros" themselves until they finally reach the guerrilla's hideout and engage in a long gunfight which they eventually win.
Reception
Edit
This movie tended to support the critics' belief that all movies shared the same plot, just different locations. At the box office, it was moderately successful, making Transbaum a $10 million profit, however, still it had poor critical reception, rating 10%.