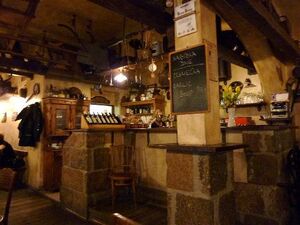 Bistro 13 is a restauant on 13 Danish Av. in Hurbanova that serves European food, mainly French, Italian and Spanish. It is located in an old building, beside the Hurbanova Central Park. A variety of food is served, and popular menu items include the Ravioli, Paella and Chocolate gateau.
Good food and atmosphere, but is a little too expensive for the quality served. Better to go there for the drinks.

-Cinq Etoiles
Ad blocker interference detected!
Wikia is a free-to-use site that makes money from advertising. We have a modified experience for viewers using ad blockers

Wikia is not accessible if you've made further modifications. Remove the custom ad blocker rule(s) and the page will load as expected.