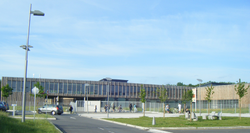 The Bishop Thumbsup Secondary School is a secondary school in Kinley, Seven. It provides education to children between eleven and eighteen years of age.
The school is named after the third bishop of Lovia, Ronald Thumbsup. It was originally administered by the Roman Catholic St. Stephen's Church, until the state government took over the responsibility in 1981.
Curriculum and school day
Edit
Curriculum
Edit
The school teaches a balanced secular curriculum, including Religions of the World (a course with a balanced approach to the major religions of the world), computing and a range of foreign languages. Students also study three compulsory subjects (English, mathematics and science) and choose four optional subjects from a wide selection.
School day
Edit
Lessons run from 8:30 to 4:00 on weekdays. The school year begins in early September and ends in mid July. Students have 2 week breaks in April and December, as well as one week breaks in October, February and May.
Because many of the students are from remote islands, the school also includes boarding facilities where they can stay during the week.
Ad blocker interference detected!
Wikia is a free-to-use site that makes money from advertising. We have a modified experience for viewers using ad blockers

Wikia is not accessible if you've made further modifications. Remove the custom ad blocker rule(s) and the page will load as expected.