Baldwin Coffees
Name
Baldwin Coffees
Product
Coffee houses
Origin
Lovia
Founded
February 2010, by Jhon Lewis
Owner(s)
Marc Smith (100%)
Notable persons
Marc Smith (director)
Headquarters
Old Harbor, Noble City
Profit
L$ 988.000 (2011)
Baldwin Coffees is a chain of coffee-houses in Lovia, the United States, and Canada. Baldwin Coffees was owned by Plus Food wich was owned by Plus Company, a former company of Jhon Lewis. Marc Smith is the current owner. The first location was opened on 12 February 2010 in Little Frisco in Noble City. The chain is named after Jerry Baldwin, former owner and one of the founders of Starbucks. Baldwin Coffees is in no way sponsored by Jerry Baldwin.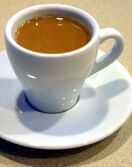 Locations
Edit
Sylvania
Edit
United States of America
Edit
Washington
Edit
19 Patrick Avenue - Seattle
California
Edit
4 Virginia Avenue - Los Angeles
The location in Vancouver is currently not built.
See also
Edit