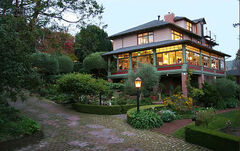 B&B Oxelinx Park is a Lovian bed and breakfast in Clave Rock, Train Village. B&B Oxelinx Park, located on the east end of Oxelinx Park and on Jameson's Crossing, has five bedrooms available and offers a daily breakfast to its customers. From March through October, the B&B offers breakfast to non-customers too.
The lodging is owned by Patrick and Jane Brown, American-born residents, who also live in the B&B. They cater the breakfast to the guests and provide personal assistance and advice on tourist facilities, hiking tours and nearby attractions.
Guide Hôtelier Cinq Etoiles gives this hotel

. Attention to its guests is unrivaled within its class. Very nice place, charming and well kept. The breakfast may not be 5-star, but it is natural and home-made.
See also
Edit
Ad blocker interference detected!
Wikia is a free-to-use site that makes money from advertising. We have a modified experience for viewers using ad blockers

Wikia is not accessible if you've made further modifications. Remove the custom ad blocker rule(s) and the page will load as expected.