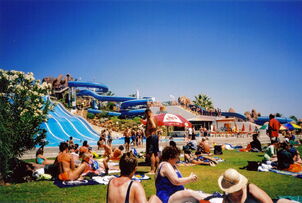 The
Atlantis Resort
is a family-oriented resort and waterpark located in
Adoha
,
Clymene
.
Construction
Edit
Plans for the resort's construction began in 2001 and the actual work began in 2003. But, lack of funds saw very little actually get done. In 2005, the property was sold to Landmark Group, and constuction quickly recommenced. The hotel was finished in 2008 and the waterpark in 2010.
Amenities
Edit
The hotel has 300 rooms and 13 suites. All hotel guests are allowed free entry to the waterpark, while non-guests may use it at a cost of $15/ day. The hotel has a Jose Olé restaurant which is open to the public, as well as two guest-only dining and drinking locations for guests.
Guide Hôtelier Cinq Etoiles gives this hotel

. This hotel is very good for families, as it offers services for both adults and children. As Lovia's largest resort, it is surprisingly very personal when it vomes to service.
Ad blocker interference detected!
Wikia is a free-to-use site that makes money from advertising. We have a modified experience for viewers using ad blockers

Wikia is not accessible if you've made further modifications. Remove the custom ad blocker rule(s) and the page will load as expected.