The Antiquities Museum is an extension of the Museum of Art at 5 Maple Str, Bayside. It was opened in 2004, and is a very popular museum, known as "Lovia's Louvre". The museum building is in a Federal style, and
The Collection Edit
The Antiquities museum has an extensive collection of old art, dating back to ancient Egyptian times.
West Wing Edit
The West Wing houses all of the ancient artifacts of the Egyptians, ancient Greeks and Romans, as well as the Currency collection.
Coningham Hall Edit
The Coningham Hall houses all of the Ancient Egyptian art.
Fanning Hall Edit
The Fanning hall, named after Lovian archeologist Hiram Fanning, houses the Ancient Greek Collection
Ilava Hall of Ancient Roman Art Edit
The Ilava hall is named after Zledin Ilava, since he designed the building the museum is currently located in. It houses all of the Roman art collection, which has been acquired over many years.
Currency Collection Edit
The Currency Collection is an extensive coin collection. It is made up mostly of the collection of Andrew Frederick Ramsley and Albert Arthur Ramsley. It has coins from Egyptian times to modern 21st century coins. There are over 2,000 pieces in the collectio
East Wing Edit
The East Wing houses all of the old artwork, from the medieval period to impressionist art of the 1800s. It also houses the Military hall.
Hall of Medieval Art Edit
This hall houses all of the Medieval Art of the Museum
Military Hall Edit
This hall houses the collection of military items of the museum, dating from ancient times to modern weapons. Many of the ancient weapons come from the Collection of Sir George Coningham
Early Modern Art Edit
Impressionist Art Edit
The Courtyard Edit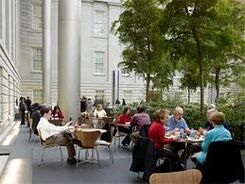 The Courtyard
has a garden and small cafe serving light lunches to museum visitors. It has seasonal menus, serving
Lovian
specialties in the summertime and European food in the winter.
See Also
Edit