Andy Bowe

Name
Andy Bowe
Full name
Andrew James Bowe
Sex
Male
Born
25 September 1950, Newhaven
Deceased
7 August 2009, Noble City
Spouse
Nellie Hume
Home
Sacramento, Noble City
Functions
Comic artist
Languages
English
Religious
stance
Protestant
Andy James Bowe (25 September 1950 in Newhaven - 7 August 2009 in Noble City) was a Lovian comics writer and artist. He is best known for his series The Adventures of Lionman and Eodre, which he never finished. Andy was the first major comics artist of Lovia, and thus is called the father of Lovian comics.
Biography
Edit
Andy Bowe was born in 1950 in Newhaven, but he soon moved with his family in Noble City. As a kid, he showed interest in drawing and he was encouraged by both his parents.
As a student he attended journalism, but he never graduated. He opened a small publishing house in Mandarin Village with his older brother, Lucas. By this period, Andy had been sketching a lot, without completing a story though. In 1974 he finished his first work, Monster Slayer, which was published as an album. Andy continued creating comics, all of which fiction stories.
In 1980, Andy moved to San Fransisco and later to Sacramento. He created many comic series for a local company, although none of them was a success. In 1981 he married Nellie Hume, a bank clerk, whose grandmother was from Lovia. In 1982 they had their first child, Margaret, and in 1986, Joanna. In 1990, Andy was diagnosed with a rare cardiomyopathy.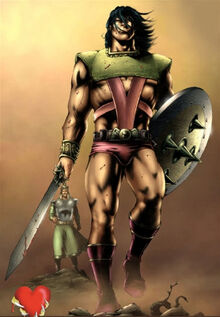 Andy moved with his family back in Noble City in 2000. A couple of years later, he started Dracko, his first major comic, which was published in 2003. With Dracko Andy came to prominence. Losing no more time, he started The Adventures of Lionman, that immediately was successul. The series were completed in 2006 and Andy was now very famous. His good friend William Goodwin stated: "The Adventures of Lionman marked the birth of Lovia's comic culture".
In 2008, Andy began Eodre for the then recently established Horus Comics. From the very beginning, the response was tremendous and Eodre was to be Bowe's magnum opus. However, Andy never completed his work. He died in 2009 by a heart failure, which was caused by his disease. In 2010 he was posthumously awarded with a special prize at Comicmania International Festival, for his major contribution.
Famous works list
Edit
Dracko (2003)Edit
A Bloody Beginning
The Truth
The Avenger
The Trumpets of Battle
Satisfaction?
The Adventures of Lionman (2005-2006)Edit
A Tale that wasn't Right
A Perfect Youth
The Magic Sword
A Long Journey
Homecoming
Savage Raiders
Rescue Mission
On the Go again
Pursuit of a Hero
A Shiny Star
Eodre (2008-2009)Edit
A Warriors's Birth
The Battle Begins
The Man with the Spear
Traitors
Long live the King
Teeth in the Dark
A New Menace
A Stab in the Heart