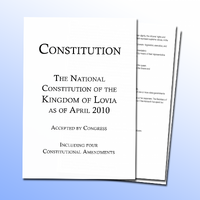 An amendment is a change made to a pending motion or bill by a motion to amend, or to a previously adopted law or motion. In Lovia, it is almost exclusively used as a synonym of a constitutional amendment, a change made to a written constitution. Article 7 of the Lovian Constitution defines an amendment as "a motion to amend the Constitution". It requires a special majority of more than two thirds, so at least 66.67% (prior to 2010: 75%).
List of Constitutional amendments
Edit
In the course of recent history, ten amendments have been made to the 2007 Constitution:
Ad blocker interference detected!
Wikia is a free-to-use site that makes money from advertising. We have a modified experience for viewers using ad blockers

Wikia is not accessible if you've made further modifications. Remove the custom ad blocker rule(s) and the page will load as expected.