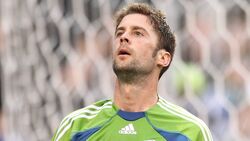 Al Pennington (16 March 1980 in Noble City) is a Lovian soccer player who plays for Bay Hawks and the Lovia national football team as a defender. Pennington started his career at Contra United in 1999, less than a year after the club was founded. In 2002, he moved to FC Caltrava (then known as AC Noble City). He stayed there (with a few loan spells) until 2009, when he was bought by the Bay Hawks.
He is one of the oldest players on the Bay Hawks squad, and currently appears as a substitute for both Bay Hawks and the Lovian national football team.
Pennington lives in the Wikicity Building in Transcity in Noble City. His younger brother Paulo Pennington is also a footballer with Bay Hawks.
Ad blocker interference detected!
Wikia is a free-to-use site that makes money from advertising. We have a modified experience for viewers using ad blockers

Wikia is not accessible if you've made further modifications. Remove the custom ad blocker rule(s) and the page will load as expected.