Adoha Elementary is a primary school founded by politician and Adoha's former chairman Marcus Villanova along with his First Charter Schools of Lovia which is an advanced schooling program. The school is for grades one through eight. The school is in session from Monday through Friday, from Monday - Thursday there is seven hour days, on Friday there is only four hours in class meaning that a child has 32 hours a week. Marcus is active principal. The school doesn't teach religion but is always well know for the schools high conduct code. There are only 200 kids in the school and at times have two classes for the same grade, and parents elect and run a school board.
Pictures of School
Edit
School Board members
Edit
Being a charter school, which runs like a private school, but is free and doesn't teach religion, and chooses a small amount of kids. The board is ten voting parents, 19 teachers and the principal. The parents elect nine members before the beginning of the school year. 24 out of 30 members have party affiliation, one parent said "Politics before kids" which a lot of parents run on, as independents. The school board is actually very prestigious and many other Lovian schools are looking at this example. They can vote on school budget, events, sports, teachers, and other important school matters. In April of 2011 the board has been named the "Future of Lovian Schooling" by The Noble City Times along with other schools around Lovia.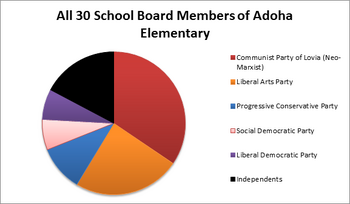 The composition was mainly controlled by progressives beacuse
Adoha
and
Clymene
are traditionally liberal. The School Board is controlled by CPL.nm with ten seats, with some less popular parties like the
Progressive Conservative Party
, with three seats, and the
Liberal Arts Party
, with two seats, control some seats in the school board. There were five independents and two Social Democrats, and two Liberal Democrats. Most members didn't vote along party lines.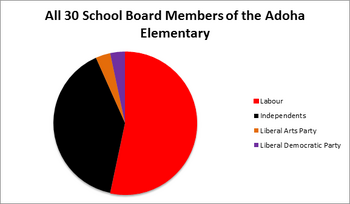 The 2011 elections were for the 2011-2012 school year. With new parties and more independents elected. The ultimate winners were the
Labour Party
with 16 seats, second place were independents with 12 seats. Finally with one seat each the Liberal Arts Party and the Liberal Demcoratic Party were also elected. The school board first changed 8th grade education, the computer hours changed from 2 hours to 1.5 hours, adding an additional .5 hours to Arts, Crafts, and Music.
Current Topics
Edit
Number of kids allowed in the school
Funding of sport teams
How subjects should be taught
See Also
Edit
Ad blocker interference detected!
Wikia is a free-to-use site that makes money from advertising. We have a modified experience for viewers using ad blockers

Wikia is not accessible if you've made further modifications. Remove the custom ad blocker rule(s) and the page will load as expected.