Adoha
Talk

98
2,862pages on
this wiki
Village
Name
Adoha
Hexacode
CL-AD-01
Population
4,175 (downtown:1,520)
Language(s)
English

Geography

Location
Adoha, Clymene

Trivia

Nicknames
Lovia's tropical backyard,

The entertainment capital of Lovia
Adoha is a Lovian holiday village in Truth Island, Clymene. Adoha consists of seven luxurious hotels, two casinos and a shopping mall, which are the primary source of income in the hamlet. Adoha, which has a beach strip, a boardwalk and pier, swimming pools, ponts, fountains, gardens, parks, woods, etc., is a well-known holiday location. Adoha also has a neighborhood called Ferguson Beach Village.
The hamlet was built in the late 2000s and completed before the end of 2009. The project was sponsored and developed by the COAST Fund, in agreement with Clymene Governor Robin Ferguson. Though the name originally had no real meaning, the project developers created an acronym: A Dazzling Opportunity for Holiday Amusement.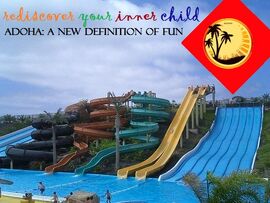 Adoha was designed for one purpose: to bring lots of tourists there. In 2011, the Secretary of Tourism,
Justin Abrahams
, devised a plan to revitalize Adoha and bring more tourists to Lovia. This includes constructing more resorts and making them family-friendly, building a
casino
, a water park and
a shopping center
. Seven hotel resorts are located in the hamlet, being:
There are also two casinos located in Adoha, the Olympia Casino and Wild West Casino. In recent years, the Great Lovian Avenue has become a major atttraction center in the town, housing a Hard Rock Cafe, an oddities museum, a haunted house and several other themed restaurants.
On the north side a popular beach, the Ferguson Beach, is situated. There is a boardwalk and a pier, both known for their romantic atmosphere. In the village, many ponts, fountains, gardens, parks, woods, etc. can be found.
Village map
Edit
*1 - Night Drive
*2 - Morning Drive
*3 - Noon Drive
*4 - Evening Drive
*5 - Holiday Circle
*6 - West Drive
*7 - East Drive
See also
Edit