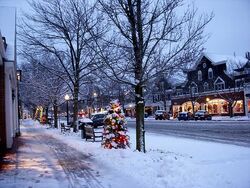 Abington, or Abington Village is a Lovian village on the east coast of Asian Island. The village has 689 inhabitants. Abington is known for it charming houses and its old church. Since the 1930s it has gradually become more upscale and is considered to be one of the wealthiest communities in Lovia.
The Hamlet of Abington was first settled in 1913, when former governor Lucas O'Brian built himself a nice country estate following retirement overlooking Abington Bay. Abington later attracted other wealthy Sofasians looking for a nice holiday home near the city.
The church was built from 1915 to 1918 and became the center of the little community. After the 1930s more moneyed people began settling down and building homes, maintaining it's exclusivity well into the 1980s despite the arrival of more middle-class people into neighboring settlements. Today one can find smaller houses as some middle-class families have moved in, as Abington does rank among Lovia's best places to live.
Abington has one primary school, serving the village and a secondary school serving the region (Cornwall, Lisney and Glesga). There is also a private preparatory college in the town limits, Abington College, which attracts students from Sofasi, Adoha and even Seven. The village also had a small clinic for medicine and short visits created in 2001 called Abington Clinic.
Geography
Edit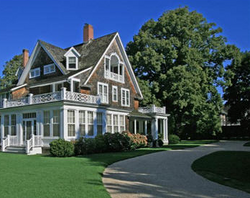 Abington lies along Abington Bay, in an area characterized by rolling hills and meadows. The hamlet itself is rather spread out, with the church and some smaller homes in the center, forming the Main Street district and other larger estates in the area around.
Abington is unofficially divided into two areas, Abington Center and Abington West. Abington Center is centered in the east, overlooking the bay. It encompasses the main shopping area, along Main Street and Dubois Lane, which includes a few upscale boutiqes, an artisanal bakery and the only bridal store in the north outside Sofasi.
Abington West is where most of the country estates are found, though still within the hamlet limits. Most of these houses are nearing 100 years and are architectural gems. Some wealthy families still occupy these, but a few have been converted into hotels, inns restaurants and even the local museum.
Demographics
Edit
Abington has a population of 689 people, with some 530 in Abington itself and 169 in the surrounding countryside. 71 percent of inhabitants were of Lovian-American origin, 24 percent of European origin and the remaining 5 percent of Asian and Latin-American origin.
Financially, the average income in the hamlet was L$45,935 per person (L$48,220 for males and L$43,650 for females). Households had a combined average income of L$71,790.
In regards to religion, some 83.5% of inhabitants were in any way religious (and some 16.5% non-religious/atheist).
Harding Primary School
Main Street 1
SHOP FOR SALE
W'minster Road 1
*1
FOR SALE
Westminster Road 2
FOR SALE
Noble Hollow 1
*2
Köningsbosch
Main Street 9
Abington Bay
FOR SALE
Main Street 3
O'Brian Estate Museum
Main Street 5
HOTEL FOR SALE
Main Street 7
Main Street
Church of St. Andrew
Main Street 2
RESTAURANT
FOR SALE
Main Street 4
BAKERY FOR SALE
Main Street 6
BRIDAL STORE FOR SALE
Main Street 8
FOR SALE
Main Street 10
Abington Town Hall
Church Drive 1
FOR SALE
Church Drive 3
FOR SALE
Church Drive 5
Church Drive
Abington Clinic
Church Drive 2
FOR SALE
Church Drive 4
FOR SALE
Church Drive 6
SHOP FOR SALE
Church Drive 8
FOR SALE
Church Drive 10
FOR SALE
Church Drive 12
*1- Westminster Road
*2- Noble Hollow
Ad blocker interference detected!
Wikia is a free-to-use site that makes money from advertising. We have a modified experience for viewers using ad blockers

Wikia is not accessible if you've made further modifications. Remove the custom ad blocker rule(s) and the page will load as expected.