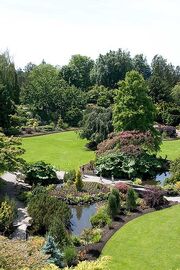 Abby Park is a municipal park located in Downtown Newhaven, on Kings Island. Its surface was scarred at the turn of the twentieth century when it was quarried for its rock, which served to build Newhaven's new roadways.
In 1964, the park's floral future was somewhat revealed when several natural associations suggested the notion of transforming the quarries into sunken gardens. By the end of that decade, the site had been turned over to the Newhaven government to create a park for recreation purposes. From then on, Newhaven incrementally transformed the overgrown hillsides into Lovia's first civic arboretum, with a generous donation from the Lovian government. The popular quarry gardens were unveiled in the late 1960s.
Attractions
Edit
There are several other attractions in the park. These include a pitch and putt golf course, a disc golf course, tennis courts, a lawn bowling club, and a restaurant. The park is a popular place for Lovian tv-programs which are often filmed here. Also, it is said that Newhaven will give a part of the park to the Lovian Museum for Modern Art, so that they can hold exhibitions in the open air.
Ad blocker interference detected!
Wikia is a free-to-use site that makes money from advertising. We have a modified experience for viewers using ad blockers

Wikia is not accessible if you've made further modifications. Remove the custom ad blocker rule(s) and the page will load as expected.