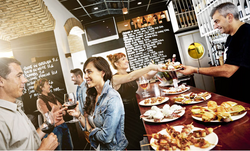 APERTO is a restaurant in Trading Quarter specialized in Brunanter aperitives. Similar to tapas, these are small snacks which are accompanied by aperitive liqueurs, traditionally taken between lunch and dinner. The name is taken from the Barzuna word, apertivos.
Chefs Michal Kowalski and Brunanter Enrique Andona thus created their restaurant to bring these flavors of Mediterranean eating to Lovia. Many of them are based on passed-down recipes from The Art of Eating (the Brunanter kitchen bible) though some are Lovian inventions, using salmon and local ingredients to create their apertos.
As in Brunant, the restaurant is organized so that customers select the little bites they want and then pay, and sit to eat. Like Brunant, this is a la carte eating. Customers can then select a glass or bottle of their preferred aperitive drink or wine to accompany their bites, as is traditional.
Kruisworst & baguette
Cheddar cheese and crackers
Cavallet cheese
Roasted peppers
Macaroons
-$2.5-

Smoked salmon, spinach & baguette
Beef and pita
Potato skins & bacon
Pabella ham & olive oil
Virgin cheese & crackers
French pastries
-$3.5-

Battered sole
Chanterelle mushrooms
Mussels
Micro beef burger
Crab omelet
-$4.5-

Cheese and ham platter
Kruisworst, pepper & melted virgin cheese skewer
Poached pear
Pielanca, roodworst and kruisworst platter
Squid and arugula
-$7-
Ad blocker interference detected!
Wikia is a free-to-use site that makes money from advertising. We have a modified experience for viewers using ad blockers

Wikia is not accessible if you've made further modifications. Remove the custom ad blocker rule(s) and the page will load as expected.