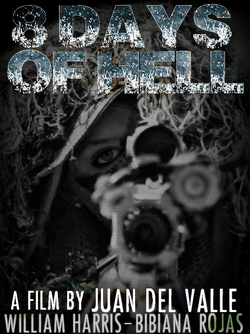 8 Days of Hell is a Lovian-Traspesian action war film on the Burenian invasion of Lovia. The film is being produced by Lovilago Film, with Veritas Cinema of Traspes. Juan Del Valle, known for his action and thrillers movies, is directing. William Harris and Bibiana Rojas are set to star in the movie.
| | | |
| --- | --- | --- |
| | This section is under construction. | |
The film follows a Lovian militiaman from Plains and a Traspesian female soldier as they fight the invading Burenians in Clymene and ultimately being to fall for each other. Rick Patterson (Harris) is a former policeman who joins a local militia in Plains as Burenia invades. Juana Torres (Rojas) is one of the first Traspesian soldiers sent to plains to assist Lovia and is put to work with Patterson's group.
...the Traspesian military gives out the order to shell Burenian positions but it could put our Lovian hero at risk by him being near there and she goes in to find him, of course killing a few Burenians along the way. 
During intense fighting he is injured. As they are flown by helicopter to a Brunanter naval ship offshore, she proposes to him that they should marry. On his hospital bed, one of the ship commanders officiates as other sailors look on and serve as witnesses. (he may survive and they live happily ever after) or he dies after saying I do.
The film is slated to be released after mid-2015. Two posters are being released, featuring Harris and Rojas in action poses.
Ad blocker interference detected!
Wikia is a free-to-use site that makes money from advertising. We have a modified experience for viewers using ad blockers

Wikia is not accessible if you've made further modifications. Remove the custom ad blocker rule(s) and the page will load as expected.