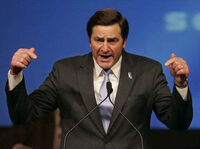 A debate was held between the leaders of the six major political parties on the 30th March, prior to the 2015 elections. The debate moderator was Hugo Mendes, and questions were asked by Lovians from a range of backgrounds and from across the country.
The debate was organized jointly by Kaboom TV, ZAM TV, and the Oceana Broadcasting System.
The following political parties took part:
Other representatives who requested an invitation included Neil Hardy, the CCPL's candidate for Prime Minister, and Katie Conroy, an independent candidate. The former was declined, as CCPL was already represented by Ilava; the latter was declined, as the organizers wished to limit participation to the most influential political parties.
According to post-debate polling, Hoffmann was judged the winner, followed closely by Abrahams.
Ad blocker interference detected!
Wikia is a free-to-use site that makes money from advertising. We have a modified experience for viewers using ad blockers

Wikia is not accessible if you've made further modifications. Remove the custom ad blocker rule(s) and the page will load as expected.