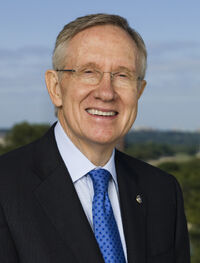 The 2006 Congress was the Lovian federal legislature from February 1st 2006 to January 31st 2007, elected in the Federal Elections, 2006. The 2007 Congress was the last to be dominated by Freedom First and its Prime Minister Rick Frances.
Composition
Edit
February 1st, 2006, there were fourteen Members of the Congress:
Rick Frances from Freedom First was re-elected Prime Minister. His party returned to the F1-NLP formula for the Frances IV Government. The 2006 Congress was remarkably scattered, with the exception of the 7-member Freedom First faction. To date, it is the largest number of members from one party ever in Congress.
Samantha Brown (LDP) was the only member not to be re-elected. David H. Washington (F1) had decided to stand down. Their seats were won by Patrick McKinley and Jake Kubrick from the Freedom First party.
Paul Halldane (F1) resigned in October 2006 for health reasons.
See also
Edit
Ad blocker interference detected!
Wikia is a free-to-use site that makes money from advertising. We have a modified experience for viewers using ad blockers

Wikia is not accessible if you've made further modifications. Remove the custom ad blocker rule(s) and the page will load as expected.